A reusable shopping list is a shopping list that you can use over and over again. It lists all the foods that you ever use. Before doing your shopping, you check your kitchen and highlight each of the things on your reusable shopping list that you need to buy. You can also sit down with a cook book and highlight items on your list that you need for a recipe you plan to cook. As you get each item from the shops, you rub the whiteboard marking off the list.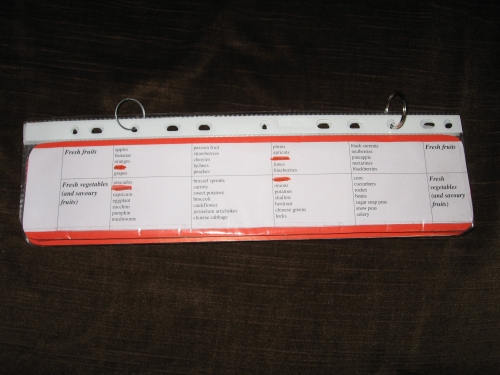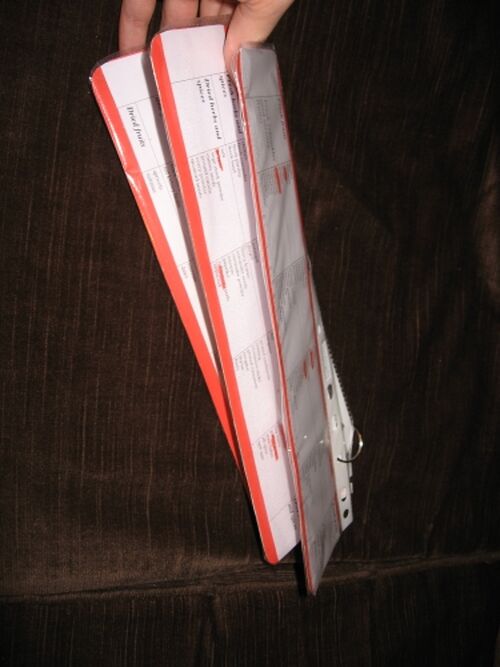 Materials and tools needed
Edit
Type up a list of all the food items that you ever purchase (and other household items that you regularly purchase).
Categorise the items on your list into categories and lay it out neatly in a table (see above pictures for examples - landscape format is ideal, to make the shopping list more compact, use a small sized font). Example categories include:

Fresh fruits
Fresh vegetables
Fresh herbs and spices
Dried herbs and spices
Seeds and nuts
Beans, pulses and grains
Dried fruits
Vinegars, sauces, oils and pastes
Baking ingredients (flour, baking soda, etc.)
Canned/tinned food
Food in jars
Fridge food
Pastry and pasta type foods
Treats
Drinks
Breads
Cleaning products (detergent, etc.)
Personal items (tooth paste, shampoo, etc.)

Print out your list.
Cut the list into strips of similar sizes (approximately 6 cm wide strips). (They don't have to be exactly the same size as each other).
Cut some pieces of cardboard the same size as the largest strip of your list. Each piece of cardboard should be exactly the same size.
Glue the strips of paper with your lists on them to both sides of the pieces of cardboard.
Cut the corners of the pieces of cardboard so they are rounded.
Place each piece of cardboard into a plastic sleeve.
Cut the plastic sleeves to be the same size as the pieces of cardboard.
Stickytape the plastic sleeves shut so that the cardboard is tightly enclosed in the modified plastic sleeve.
Thread the two key rings through the holes in the plastic sleeves.
Highlight the things you need to buy.

Alternatives:
If you prefer, you could contact the pieces of cardboard instead of using the plastic sleeves. Then you could either punch holes to thread the key rings through, or you could put little metal eyelets through the contacted cardboard and thread the key rings through the eyelets (using eyelets would prevent the cardboard tearing).
External links
Edit
Ad blocker interference detected!
Wikia is a free-to-use site that makes money from advertising. We have a modified experience for viewers using ad blockers

Wikia is not accessible if you've made further modifications. Remove the custom ad blocker rule(s) and the page will load as expected.