Reusable menstrual pads are a reusable alternative to disposable sanitary napkins used by women when they are menstruating (having their period). They are made of cloth as opposed to plastic, and are washed and dried between each use. Reusable menstrual pads can be made from new materials or from old materials such as old pillow cases, sheets and towels. There are many different designs of reusable menstrual pads; most designs include a cotton "case" and a towel "insert".
Method I
Edit
Method I: Materials & Tools needed
Edit
Materials:
Tools:
Cardboard
Pen/pencil
Scissors
Pins
Sewing machine (or a needle, if you are sewing by hand)
Needle
Method I: Quick Steps
Edit
Method I: Full Steps
Edit
NOTE: CLICK ON AN IMAGE TO SEE A LARGER VERSION.
Making a cardboard template:
Cutting the fabric to size:
Sewing the pad case:
Making the towel insert:
Making a button hole and attaching the button:
Method II
Edit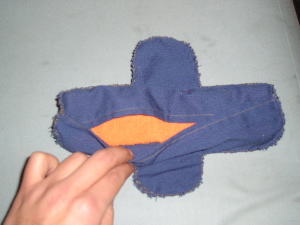 Method II: Materials & Tools needed
Edit
Cotton fabric
Towel material (a clean old towel will do)
Button
Cotton thread
Sewing machine (optional)
Sewing needle
Scissors
Method II: Steps
Edit
See also
Edit
External Links
Edit
Ad blocker interference detected!
Wikia is a free-to-use site that makes money from advertising. We have a modified experience for viewers using ad blockers

Wikia is not accessible if you've made further modifications. Remove the custom ad blocker rule(s) and the page will load as expected.