Ad blocker interference detected!
Wikia is a free-to-use site that makes money from advertising. We have a modified experience for viewers using ad blockers

Wikia is not accessible if you've made further modifications. Remove the custom ad blocker rule(s) and the page will load as expected.
---
Inductors
can be labeled with a number of different ways. The most common are text codes and color codes.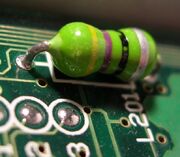 Text Marking
Edit

Values are in micro Henries (μH)
First two digits are the value
Third digit is the multiplier
If there is an R, its acts as a decimal point, and there is no multiplier
Examples:

101 = 10*101μH = 100μH
4R7 = 4.7μH
Suffix

Sometimes the precision of the inductor will be marked, using a final letter F, G, J, K, or M

F = +/-1%
G = +/-2%
J = +/-5%
K = +/-10%
M = +/-20%
Color Code Markings
Edit
Inductors can be marked by colored bands or colored dots. Each color represents a value.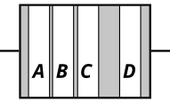 | Band A | Band B | Band C | Band D |
| --- | --- | --- | --- |
| 1st Digit | 2nd Digit | Multiplier | Tolerance |
| | | Silver 10-2 (0.01uH) | Gold 5% |
| | | Gold 10-1 (0.1uH) | Silver 10% |
| | Black 0 | Black 100 (1uH) | Black 20% |
| Brown 1 | Brown 1 | Brown 101 (10uH) | |
| Red 2 | Red 2 | Red 102 (100uH) | |
| Orange 3 | Orange 3 | Orange 103 (1000uH) | |
| Yellow 4 | Yellow 4 | Yellow 104 (10000uH) | |
| Green 5 | Green 5 | Yellow 104 (10000uH) | |
| Blue 6 | Blue 6 | | |
| Violet 7 | Violet 7 | | |
| Gray 8 | Gray 8 | | |
| White 9 | White 9 | | |
note: brown and violet can look very similar on some components. Violet and white can also look similar sometimes

Example 47 micro Henry

Band colors:

1st band: yellow=4
2nd band: violet=7
3rd band: black=10^0=1

Inductor value = 47x10^0uH = 47uH

4th band: silver = 10% tolerance
inductance=47+-10
References
Edit