---
US Junk Mail Lists
Edit
There are a few types of junk mail lists. Independent junk mail, advertizing groups, and submerssion mail.
Independent Advertizers and Catalogs
Edit
Simply find the phone number and call them. They will be very friendly and wont give you a hard time. It usually doesn't take more than 5min.
Or try:
Advertizing Groups
Edit
To get off the major Junk mail lists .
First find the advertizer. It is usually on the corner of the main flyer, but some of the less ethical one try to hide it. But its always there.
Here are some of the common ones

ADVO (Mail comes with pictures of missing children). Call 1-860-285-6100 to get off the list. You may have to send a postcard to "ADVO Consumer Assistance, POB 249, Windsor CT 06095-4176".
Val-Pak Coupons: click the link and fill out the form - easy, but don't give them your email address.

Call 1-800-67-TARGET to get off the list.
Your local newspaper & supermarket (look for a phone number on the piece).
to be finished
Submersion Mail
Edit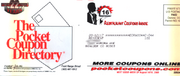 to be finished
Some may be on this site
Otherwise, try calling the 'Adversising' phone number.
They may or may not help you. And they may or may not be nice about it. It is usually a personal phone # of the person in charge of organizing the advertizers.
=External links=
Ad blocker interference detected!
Wikia is a free-to-use site that makes money from advertising. We have a modified experience for viewers using ad blockers

Wikia is not accessible if you've made further modifications. Remove the custom ad blocker rule(s) and the page will load as expected.