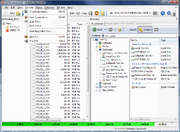 Nero Burning Rom comes with the "save tracks" feature helps users to quickly grab the music tracks in the CD, and save into the WMA format music files.
Steps are described as follows:
Tools we need:Nero Burning Rom

Step 1. First insert a music CD in the DVD burner, andthen click the "all programs" → Nero 7 Premium →"audio" → Nero Burning ROM menu command on the start menu, open the Nero Burning Rom. click the"Cancel" button in the open "new editor" dialog box.

Step 2. Back to the main Nero Burning Rom window. Click "more options" → "save tracks" menu command.
Step 3.Open the "Save CD tracks" dialog box, select the music you want to save in the track listing. If you click "select all" button which will save all of the music track in the CD. then Click the "output format" drop down triangle button on the right, select Windows Media Audio (WMA to mp3) options in the format list, and then click the "path" in the right of the "Browse" button to choose where to save the converted WMA file. After all setting, click "go" button

Step 4.Open the process dialog box, Nero Burning Rom will saves the selected track and automatically convert to WMA files. note that during save audio tracks and convert the audio format process, it may use large amount of system resources. so highly recommended that users do not run other programs during this process

Step 5.After The conversion is completed, and then click "close" button to turn off the "Save CD tracks" dialog box. WMA music files that are generated in this manner have a wide range of applications, you can easily make a WMA music auto-play discs
Author: Protected Music Converter
Ad blocker interference detected!
Wikia is a free-to-use site that makes money from advertising. We have a modified experience for viewers using ad blockers

Wikia is not accessible if you've made further modifications. Remove the custom ad blocker rule(s) and the page will load as expected.