Introduction
Edit
Se o seu o windows está lento na inicialização, você pode analisar quais programas que estão deixando o boot lento.
O programa Soluto informa quais programas podem ser removidos, quais pode ser removidos após uma avaliação rigorosa e quais não podem de maneira alguma ser removidos.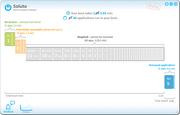 1- Baixe e instale o programa Soluto 2- Execute o programa. 3- Após o resultado, remova os programas que achar necessário.
Ad blocker interference detected!
Wikia is a free-to-use site that makes money from advertising. We have a modified experience for viewers using ad blockers

Wikia is not accessible if you've made further modifications. Remove the custom ad blocker rule(s) and the page will load as expected.